Useful and Cheeky Stationery for the Snobs, With a Quirky Twist!
Whether you have an obsession with cool stationery or know someone who has a stationery fetish, this is the only place where you can satisfy your passion. When it comes to exclusive stationery, few of us can resist. Who doesn't like collecting colourful tapes, lovely diaries, and one-of-a-kind pens? No matter how busy we are on our keyboards or mobiles, nothing beats the unique feeling of a pen scratching on paper to make us feel accomplished.
There are addicts and then there are stationery addicts! These kinds of aficionados are always on the lookout for some stationery to buy and claim as their treasure. Literally, when you browse at their stationery collection, you could think to yourself, "You might open a shop with all this unused stationery!"
If you know a  stationery junkie, you should know that no gift is more appropriate for them than a stationery piece. Our range of cool and quirky stationery will inspire your children as the golden rule is that there is never enough cool stationery for kids! Make your co-workers or loved ones laugh hard with our unique list of gifts that Thinkers, Doers, and Dreamers will love. We also have a mega-list of presents for readers that is longer than War and Peace, so please assist your fellow pandas. You'll definitely want to bookmark these gifts!!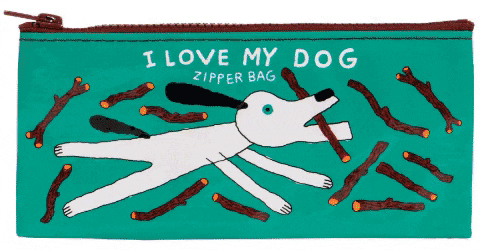 Who needs a boring and dull pencil case with Disney characters, a barbie doll, or with some stupid quotes? It's time to move on from those fictional characters and gift your kids or loved ones, who are obsessed with dogs  'I Love My Dog Pencil Case'. A true dog lover would tattoo that on their forehead if it didn't get the strange stares. BELIEVE US! We also have a collection of quirky zipper pouches for bird lovers, a rainbow-themed pencil case for the colourful personalities, Hands Off my Doodads for the freaks to F**k Off I'm Reading Pencil Case for the bookworms in your life.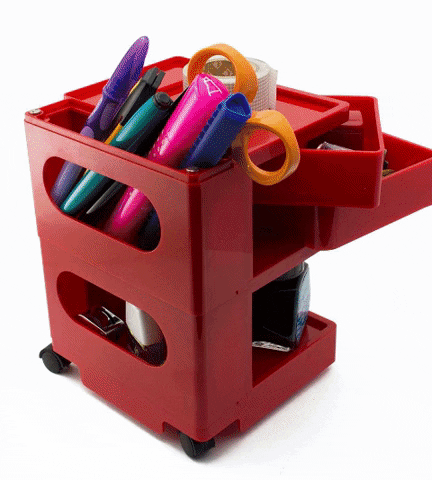 Ever thought about how your friends organise their stacked stationery? Well, from my experience I have literally seen their pens rolling off the table and their sticky notes stuck everywhere. Worry Not!! We have a gift for the disorganised fella 'Desk Top Wagon',  which makes organising a no longer chore. No more grabbing the wrong highlighter as they can keep everything at the same place. So convenient!! 😊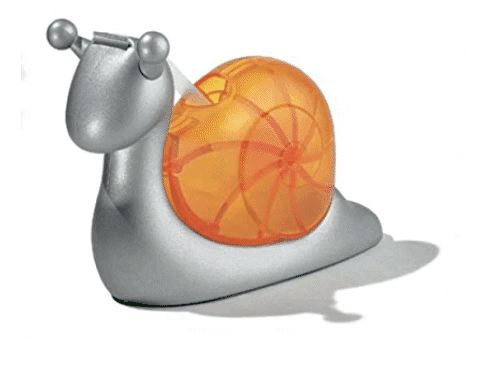 Since most of us spend countless hours on our desks, make it worth a while by gifting a cool 'Koziol - SPEEDY Tape Dispenser'. This is probably a smidgeon more adorable than the usual tape dispenser. Heck yes!! SPEEDY stays put even when everything else is in a spin. Surely it beats someone taking a post-it note on the edge of their computer screen!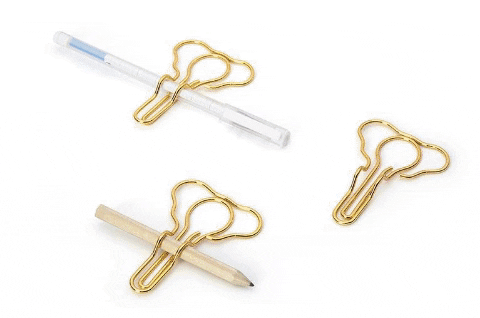 Just remembering the moment when you lost your favourite pencil is quite pen-ful. The amount of pencils we all might have lost is too damn high. If your friend is the one who takes your pencils and never returns them back. Give them 'Clippen Bird Pen / Pencil Clip' a cute little birdy to hold their pencil close to their notebooks. So that it won't disappear. The gift will be 'On Point'. Don't forget to look at our cute and animal-themed 'Clippen Collection'. 
We all have been playing pen fighting with our mates, but have you ever tried sword fighting? If yes, gift the fearless fighter on your list 'Pen Swords Eraser' and we are sure it will leave them laughing into pieces. The eraser sword is mighty, but they say the pen is even mightier. So by our calculations, whoever wields these adorable 'PenSwords' will be utterly invincible, right? No mistake will ever stand in their way, as they will get ERASED. Time to draw your SWORDS, as they will be Cut-Lass.
Are your loved ones note-taking experts and keep forgetting their pen when they need to write something? Worry Not. Gift them 'Arty - Memo Holder', who is here to save the day :). We also have a 'Mr. P - ONE MAN HOLE, Pen Holder', so now losing a pencil or pen is pointless. Gift your mates 'Oh Pen - Unique Magnetic Pen', who is broken just like them. Kidding!!
This may sound strange but have you ever seen a rifle pen? If not we insist you gift this not at all dangerous 'Ballpoint pen Rifle Model' to your friends or the kids on your list. It will not shoot, that's for sure, but it's pretty awesome for a pen. Whenever they'll pull it out in class everybody would want to be their friend. Perfect to make friends, as no one wants enemies!! So, get going all pew pew pew on your homework or to-do list.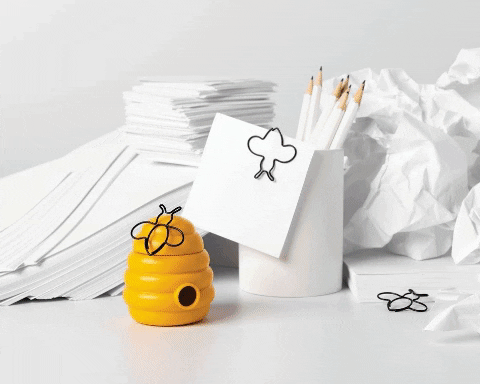 We know that some of our colleagues and friends buzz about being busy all the time. They always try to make some excuses at the end of the day, to go out with you. All we can say is don't worry, bee punny! Give them time to buzz with productivity with these paper clips!!! You'll bee-come an instant hit in your office! 'Bee' sure to thank us later.  Also, check out our super fun fish-shaped 'Sardine Paper Clips' to keep the ocean of papers organised. Just don`t try to eat them!
With our cheeky and unique stationery collection, you can make a stationery magpie's dreams come true. So, go craaazy filling up that shopping cart with quirky stationery items. Happy shopping!!
Finding the ideal gift for a bookworm can be difficult. After all, the most ideal gift is a book, but which one should you get? Confused?? Our list of funny and unique book-related gifts will help you get started on your shopping. Bookish Gifts for all Book Geeks!! Hop-On!!
---